I Wish You Were As Rich As Me
An ultra-wealthy man lived in one of the residential suites in the opulent Ritz-Carlton Hotel in New York City. He was greeted daily by the smiling face of the hotel Doorman. This Doorman's wage was barely above the minimum and lived in a small miserly apartment with 3 kids, one of which was a special needs child whom the Doorman's Wife stayed home to care for. The Doorman enjoyed his life and family immensely, even though their lifestyles couldn't be more opposite.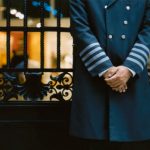 Daily, when the wealthy man saw the Doorman, he would say "I wish you were as rich as me!" The Doorman would always smile, tilt his head down just a little and reply "Sir, I wish YOU were as rich as me." What else could the man say?  He would never have the riches and lifestyle of the wealthy man, so he would remind himself of the things he did have, some of which the wealthy man did not, such as a loving and supportive Wife, three great kids he was proud of, and a content and simple life with minimal stress.
This went on for several years until the man became gravely ill.  Few people knew the man well enough to visit him in his bed, but one person did, and during the somber conversation asked the man "Of all the wealthy, influential, and wise people you have encountered over the years, whom would you say made the most impact on you…who is the wealthiest and wisest?"
The man didn't take long to think, and as tears filled his eyes, he replied: "The Doorman, for I wish I was as rich as he."
During this time of year when materialism, selfishness, and stress can overwhelm us, remind yourself of the things and people you do have that make you rich.  You learn to be content by looking at what you have, not at what you wish you had.
"…for I have learned in whatever state I am, to be content"    -Philippians 4:11