Every guy needs to have a couple of recipes he has mastered.  My Brother-In-Law is famous for his home-made-from-scratch pizza, and we always look forward to our family getting together around his pizza.  Good food = good times.
Having family members or friends get excited over something you cook is fun and heart-warming…and a blessing to them.   I would suggest finding a couple of recipes you like, and tweak them just a bit to make them your own and unique.  Practice and tweak it until you have a recipe repertoire to be famous for.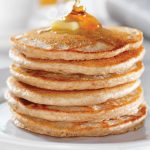 Breakfast is something every guy needs to do well, a weekend morning starts off great when you make something for your family.  Here is my recipe for Perfect Flapjacks to get you started:
Perfect Flapjacks
Serves 4 (about 8 pancakes).
1⅓ cups all-purpose flour
3 tablespoons sugar
1 teaspoon baking powder
1 teaspoon baking soda
1 teaspoon salt
2 large eggs
1¼ cups buttermilk
2 tablespoons unsalted butter, melted
2 teaspoons vanilla
Vegetable oil or butter (for griddle, if needed)
 Maple syrup (for serving)
In a large bowl, whisk together the flour, sugar, baking powder, baking soda, and salt. In another medium bowl whisk eggs, buttermilk, butter, and vanilla; stir into the dry ingredients until just combined (some lumps are okay).
Heat a griddle to around 300 degrees or medium; brush with oil. Scoop ⅓-cupfuls of batter onto griddle. Cook pancakes until bottoms are golden brown and bubbles form on top, about 3 minutes. Flip and cook until cooked through and other side of pancakes are golden brown, about 2 minutes longer. Serve pancakes with maple syrup.