Do any of these ever happen to you:
-When you're late for work or an appointment, that's the only time you get behind a slow person.
-When you only have 5 minutes to run into the bank, that's the time there is one teller and 10 people in line.
-You carefully choose the shortest line at Walmart, which turns out to have the slowest checker on the planet.
-Your spark plug socket sticks to your new installed spark plug, but not your ratchet extension so you can't get it back out.
-You are the only one left in the shop to load the Customer's truck, and the banding on the last pallet breaks, spilling all its contents all over the floor.
-Your rented rototiller runs out of fuel 5 minutes before you are done, and 10 minutes before you have to have it back.
-I was actually at Arby's one day for lunch, and just as I ordered my Beef and Cheddar, they ran out of roast beef!
"Why do these things always happen to me?" We ask that but don't expect an answer. Well, there actually is an answer: they are allowed by God to teach us patience and perfect us.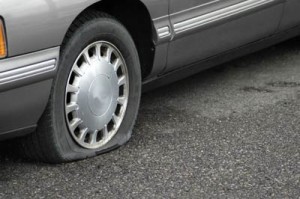 "My brethren, count it all joy when you fall into various trials, knowing that the testing of your faith produces patience. But let patience have its perfect work, that you may be perfect and complete, lacking nothing." James 1:2-4
In this scripture passage we are told to count it all joy, which means it's a choice. The word "count" means to consider or to evaluate. Then, we are told to be joyous about the situation! Wow, that's the opposite of what we normally do.
The word "trials" means something that tests us. Some external occurrence that broke the pattern of peace, comfort, or happiness, or that was negatively different than we expected.
These trials test our faith. Faith is the calm assurance that what God says is true, including His promises. Remember Romans 8:28? "Faith" in this context means "I choose to not let this situation rob me of the joy I have, and is only a test to see how I respond. It is a test to teach me patience."
The more patience I have, the less effect those trials have on me. Patience is a sign of maturity. The more mature you are, the better you can handle life's little (and large) trials. I think the older we get, the more we need patience (endurance or perseverance are similar terms) because the "trials" seem to be bigger and harder to deal with as we age.
The more patient we are, the closer to perfect we become. The term "perfect" and "complete" here does not mean sinless, but fully able to handle what comes our way. It means to be stable and steady, a very desirable character quality.  We do that by trusting Christ and relying on His presence and strength.
Just think of your reaction when some "trial" jumps in front of you…do you "fly off the handle" or "fly the bird"? Or do you truly say "it's all good". Which one is a more mature response, and which one is a better witness for Christ?