In 480 B.C. there was a Scribe named Ezra who studied the Law of Moses (the first 5 books in our Bible).  He studied them so well, it has been said he could write them down from memory!  Ezra came from the lineage of Aaron with the qualifications of a priest.  He took his job very seriously since a Scribe was expected to answer questions people had about the Law of God and explain it in an understandable way.  Ezra was a wonderful teacher, and must have thought the best way to teach something is to learn it to the point of memorizing it.
My favorite passage from Ezra is "…the good hand of his God was upon him.  For Ezra had prepared his heart to seek the Law of the Lord, and to do it, and to teach statutes and ordinances in Israel." (Ezra 7:9-10)
There is a pattern there requiring self-discipline and maturity.  It goes like this: Ezra prepared his heart (cleaned out any sin or preoccupied thinking, and made sure his attitude was that of humility and openness to God), he prayed, then studied God's Word, and then applied God's Word to what he was doing, and then he taught that to others.  He studied and practiced God's laws in his own life before teaching it to others.  This is a common sense recipe for fathers. Here are the ingredients of this recipe, which MUST be done in order:
Prepare our heart
Pray
Seek God's Word
Do God's Word
Teach God's Word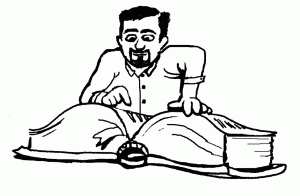 The Persian King Artaxerxes (the pagan ruler of the world) was so impressed with Ezra's knowledge of the Bible in that day, and his teaching, that he let Ezra and the captive Israelites free to return to Jerusalem.  He even authorized and set up funding for them to rebuild the Temple of the Lord and for offerings to the Lord!  How's that for respect!
There is something else we can learn later in chapter 7. Ezra gives credit where credit is due, not himself or the King, but he praises and thanks God:  "Blessed be the LORD God of our fathers, who has put such a thing as this in the king's heart, to beautify the house of the LORD which is in Jerusalem, and has extended mercy to me before the king and his counselors, and before all the king's mighty princes. So I was encouraged, as the hand of the LORD my God was upon me; and I gathered leading men of Israel to go up with me." (Ezra 7:27-28)
There is one more lesson from Ezra for fathers from Ezra 8:21 "…that we might humble ourselves before our God, to seek from Him the right way for us and our little ones and our possessions." Here we see another pattern or recipe to follow:
Humble ourselves before God. (God resists the proud, but gives grace to the humble.)
Seek from Him the right way: (Prayer and Bible study together is how to seek Him)

For us
For our children or students
For our possessions
Seeking the right way from God simply will not happen if we are't humble.  We must prepare our heart before we pray and read His Word, and that means making sure we have the proper attitude.  Humility before God means no pride in us and only focusing on God and His purposes, not on ourselves.  That puts us exactly in the proper posture for Him to speak to us through His Word so we can wisely discern what the right way is for us and our kids.  I like how Ezra also included seeking God's guidance for the proper use of the possessions He has blessed them with for His glory.
Ezra was devoted to prayer, studying God's Word, living what His Word says, successfully teaching it to others, and praising and thanking God.  He was a firm teacher and leader, responsible, obedient, and courageous, rebuking and correcting the people when needed, yet he remained humble.  A person used greatly by God.
You can learn a lot from Ezra, and by following his "recipies", be a father obedient to God, and probably used by Him too.