How to Have Endurance as a Christian
Four Keys to Running the Christian Race with Endurance
(Hebrews 12:1-3)  "Therefore we also, since we are surrounded by so great a cloud of witnesses, let us lay aside every weight, and the sin which so easily ensnares us, and let us run with endurance the race that is set before us, looking unto Jesus, the author and finisher of our faith, who for the joy that was set before Him endured the cross, despising the shame, and has sat down at the right hand of the throne of God. For consider Him who endured such hostility from sinners against Himself, lest you become weary and discouraged in your souls."
Remember those who have walked faithfully. (The "so great cloud of witnesses" in the previous 40 verses of Hebrews 11) Those people who were just like us, with lots of sin and wacky issues, but through faith, accomplished things that landed their names and story in the Bible, and we can gain strength from them.
Eliminate every sin and distraction. (let us lay aside every weight, and the sin which so easily ensnares us) Worldly and selfish things we give too much attention to, that pull us away from godly things that really matter. Things that seem like we are trying to run a race while carrying a huge weight.
Concentrate your faith on Jesus. (looking unto Jesus, the author and finisher of our faith) Is Jesus a part of your life, or the point of it?! Remember, it's impossible to please Him without faith. Instead of your selfish desires, faithfully work from beginning to the end to enhance Jesus' kingdom, and pursue His righteousness.
Contemplate the endurance of Christ. (who for the joy that was set before Him endured the cross, despising the shame, and has sat down at the right hand of the throne of God. For consider Him who endured such hostility from sinners against Himself) When Jesus is the reason you run the race, you will gain endurance because He has "been there, done that" and is in Heaven where you will partake of His inheritance, where you will see and talk with Him…in person…at the finish line. Make Him proud of you when you see him!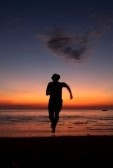 Paul said in 2 Timothy 4:7 he fought the good fight, he finished the race, he kept the faith.   Will you?
This may help: Colossians 1:18 says in all things, Jesus has preeminence. Jesus is everything…don't ever, ever, ever let go of Him!