Have Courage, Strength, and Hope
I keep this note under my keyboard at work, and pull it out often whenever a challenge is ahead: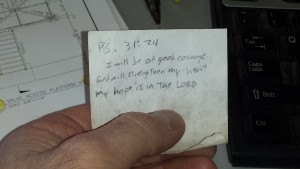 Courage, strength, and hope. Those are like money in the bank you can draw from when facing tough situations.  With those three, God encouraged Joshua when he took over for Moses, encouraged David when being hunted, and Jesus encouraged His disciples when He left them to carry on His work.  This same encouragement is for you too. We can thank Jesus for making them possible, and from whom they come.
Check out these passages:
Psalm 138:3
Psalm 27:1
Psalm 31:24
Psalm 37:39
Matthew 19:26
2 Corinthians 4:16
Philippians 4:13
2 Timothy 1:7
God is faithful, and will honor those that diligently seek His help with these three.  Trust Him, rely on Him, and face your challenge confidently…that's called faith.
So give it a try, do what my little note says. And, when you see Him give you these three, and you thank Him for His faithfulness, you will be strengthened for the next challenge.