FEAR means Forget Everything And Run to many people.
But when you trust God, you can Face Everything And Rise!
Psalm 37 and Psalm 73 are similar. Both are about how evildoers seem to prosper. However, we Christians are not to fret over that. In fact wishing we could prosper like they do is breaking the 10th Commandment of coveting what someone else has! That's really hard for us though because we tend to be fearful of what would happen to us. Doing the right thing doesn't seem very prosperous, and we won't get what we want, so we worry and fret, and maybe even mope around complaining that good things seem to happen to bad people.
The most stated command in the Bible is to fear not. Fear is the "plant that grows out of the soil of doubt." Doubt is the underlying root bed of worry, anxiety, fret, and fear.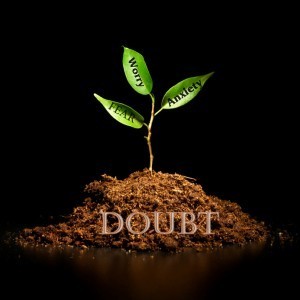 Psalm 37:3-11 has 14 ways to not doubt and replace it with peace. See if you can find them:
Trust in the LORD, and do good; Dwell in the land, and feed on His faithfulness.
Delight yourself also in the LORD, And He shall give you the desires of your heart.
Commit your way to the LORD, Trust also in Him, And He shall bring it to pass.
He shall bring forth your righteousness as the light, And your justice as the noonday.
Rest in the LORD, and wait patiently for Him; Do not fret because of him who prospers in his way, Because of the man who brings wicked schemes to pass.
Cease from anger, and forsake wrath; Do not fret—it only causes harm.
For evildoers shall be cut off; But those who wait on the LORD, They shall inherit the earth.
For yet a little while and the wicked shall be no more; Indeed, you will look carefully for his place, But it shall be no more.
But the meek shall inherit the earth, And shall delight themselves in the abundance of peace.
-Psalm 37:3-11
Click below for more: